Angeal Rexen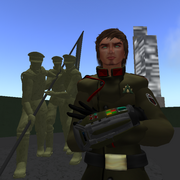 Angeal Rexen is a builder, texture artist, and military personnel in both SecondLife and Real life, Angeal first came into SecondLife to participate in an RP sim by the name of Midgar, he later took over as head of the Midgar rebuild team.
To list the Militaries he has been in:
Ordo Imperialis
Vanguard
Alliance Navy
Novus Ordo Imperialis (Current)
Angeal has been a member of each of these groups, in this specific order, and retains a membership to the Novus Ordo Imperialist to this day. He is currently ranked as an E-4 Marine and full-time Builder, as well as attending university IRL to pursue a degree in Video Game Design.
Ad blocker interference detected!
Wikia is a free-to-use site that makes money from advertising. We have a modified experience for viewers using ad blockers

Wikia is not accessible if you've made further modifications. Remove the custom ad blocker rule(s) and the page will load as expected.