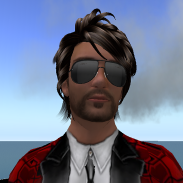 ArminasX Saiman
,
rezzed (November 2006)
, is a Second Life avatar.
ArminasX has evolved into a successful virtual business owner, currently operating one of Second Life's leading particle effects shops, Electric Pixels. ArminasX has built over 200 particle effects, many of which are on sale to the public. He also performs custom contract work for those requiring unique effects.
He also is a popular blogger, posting regularly at Second Effects on topics ranging from virtual business tips, Second Life exploration and philosophical observations. He is often found commenting on others' blogs or Plurking.
External Links
Ad blocker interference detected!
Wikia is a free-to-use site that makes money from advertising. We have a modified experience for viewers using ad blockers

Wikia is not accessible if you've made further modifications. Remove the custom ad blocker rule(s) and the page will load as expected.