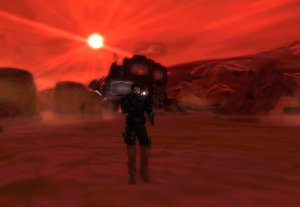 Millitary Profile:
Arnold. J .Gustav has been in the SL combat community since 2007 and has served a number of millitaries proudly throughout his time on the grid. He begun his millitary career in the "Evil Eagles", a recently formed minor millitary lead by Bennyboy Ball. Eventually the millitary disspated and at this point Arnold found his new home in the Fleet Division in the Alliance Navy when they were based at Dorien. His service continued on and off for many years. In 2010 he made friends with a marine by the name of Sean007 Cooperstone. The two of them careered through the Alliance Navy until problems arose with the Alliance High Command and it was at this point that the two of them made the descision to leave. Proceeding this Arnold joined the Vanguard Armed forces and still serves them with a great deal of pride to this day as an officer. He is currently a Wingleader in Armada and a Nightshift Overseer and aims to raise the profile of both of these divisions.
'Off Duty' Profile:
When not fighting alongside his comerades Arnold likes to spend his time drinking in bars and canteens in Sci Fi sims. INSILICO, Splintered Rock and Starbase Alpha are his personal favourites to name a few. As well as this Arnold is the chief of security aboard the NXX Wolverine led by Captain Damian Firecaster. Even off duty he is extremely fond of combat and will gladly make himself your right hand man given enough free booze. During his spare time Arnold also writes the monthley Gazzete for the Commonwealth of Nem.
Ad blocker interference detected!
Wikia is a free-to-use site that makes money from advertising. We have a modified experience for viewers using ad blockers

Wikia is not accessible if you've made further modifications. Remove the custom ad blocker rule(s) and the page will load as expected.