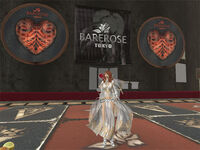 Bare Rose Tokyo is one of the busiest shopping areas and largest brands in Second Life. The owner and designer is June Dion.
B@R focuses on reasonable prices, high detail and texture. It specializes in goth, vampire, victorian and fantasy themes in addition to a wide range of both western and pacific rim styles. The main Bare Rose Tokyo store has a large freebies area featuring several unique items for both men and women.
Bare Rose Tokyo also plays host to a number of events and concerts on a regular basis.
External Links

This Second Life Wikia Article is a stub! You can help everyone by expanding it!
Ad blocker interference detected!
Wikia is a free-to-use site that makes money from advertising. We have a modified experience for viewers using ad blockers

Wikia is not accessible if you've made further modifications. Remove the custom ad blocker rule(s) and the page will load as expected.