Ad blocker interference detected!
Wikia is a free-to-use site that makes money from advertising. We have a modified experience for viewers using ad blockers

Wikia is not accessible if you've made further modifications. Remove the custom ad blocker rule(s) and the page will load as expected.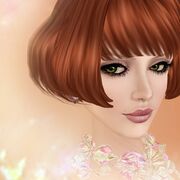 2007-2008 Co-founder of MDR Studio with Maht Wuyts. Arcadia Nightfire and Rhodey Durant joined the staff in 2008.
2008 - Present Co-founder of It's Only Fashion Blog with Gidge Uriza . in 2010, Kelley Hanly, Gala Caproni, Achariya Maktoum, and Elysyve Jewell joined. In 2011, the blog added Olela Parx, Gabe Bookmite, Hatchy Mills and Hybie Minx. Currently, the team includes Cajsa, Gidge, Achariya, Gala, Olela and Hybie.
2011 - Present Started Single Servings - food blog
2011- Present Started Blogging Second Life - a directory of SL blogs, stores and creators.
img, #cubbies-overlay{ -webkit-transition-property: margin, box-shadow, z-index; -webkit-transition-duration: 0.1s; } .cubbies-selected{ z-index: 9999; -webkit-box-shadow: 3px 3px 8px -1px blue !important; cursor: pointer !important; margin: -3px 3px 3px -3px; } .cubbies-selected:active{ -webkit-box-shadow: 2px 2px 5px -1px darkblue !important; margin: -1px 1px 1px -1px; }
cubbies-overlay{ position: fixed; z-index: 9999; bottom: 30px; left: 30px; -webkit-box-shadow: 0 2px 3px rgba(0,0,0,0.8); border: none; }
cubbies-overlay:hover{ -webkit-box-shadow: 0 2px 3px rgb(0,0,0); }