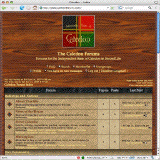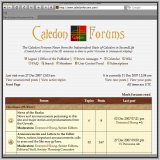 The top five Headlines forums (news of the realm, announcements and letters to editor, society, classifieds, news from abroad) are publicly readable. Access to the rest of the board requires a free registration including added procedures intended to cut down on spammers and other malicious users.
The Caledon Forums has 650 registered users as of 5 January 2009, equivalent to over 60% of the Independent State of Caledon group in-world. Aside from Mr. Longstaff and Caledon's Guvnah Desmond Shang, the top ten contributors at this writing are senior editor Edward Pearse, Valentine Janus, Fogwoman Gray, Cyn Vandeverre, Rhianon Jameson, Abigail Raymaker-Palowakski, Otenth Paderborn, Vi Paravane, Virrginia Tombola, Ilsa Munro.
As of late December 2007 the Forums also provide a gateway to the Caledon Wiki, and on January 1st, 2008 the Caledon Wiki commenced using the same aetheric presses to publish http://www.CaledonWiki.com from the same host site as the forums.
Ad blocker interference detected!
Wikia is a free-to-use site that makes money from advertising. We have a modified experience for viewers using ad blockers

Wikia is not accessible if you've made further modifications. Remove the custom ad blocker rule(s) and the page will load as expected.