Description
Caledon Mayfair is described in its covenant as a generally lovely and posh area of homes and shops. It is a non-industrial sim, with nothing of that nature larger than an inventor's lab permitted.
Mayfair is essentially an island, connected by a narrow causeway in the southeast corner to permit the Caledon National Rail to go through. Three micro-islands to the northeast, northwest, and southwest are also present.
Map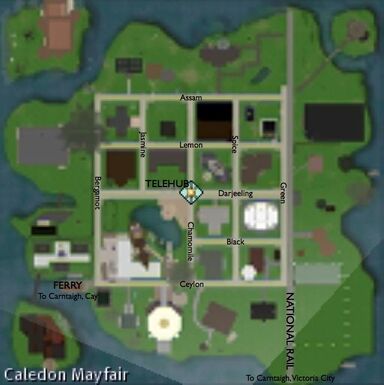 Connections
Caledon National Rail runs through the east end of the sim. It connects Mayfair with Caledon Carntaigh and Caledon Victoria City to the south. The train platform is along Green Street at the east end of Darjeeling.
The Caledon Carntaigh Ferry boards at the foot of Ceylon Road near the sim's southwest corner. It runs every quarter-hour connecting Mayfair with Caledon Carntaigh and Caledon Cay.
The Telehub common to every Caledon sim is at the center of the sim, the intersection of Darjeeling and Chamomile.
Directory of Addresses
Addresses on Green Street run from #1 in the south upwards to the north. All other street addresses run upwards from east to west beginning at Green Street with the next number up. Thus, there is no #1 Ceylon Road, the numbers begin with #2. Up north on Assam, where Green Street is at #5 the first number after turning west onto Assam is #6. Numbers are skipped on occasion, generally indicating that two or more plots or envisioned plots were merged.
Larger address numbers are thus farther north and/or west relative to #1 Green in the southeast corner.
If a structure has its entrance on a different street this is noted.
Green
#1 Jess Patton
Caledon National Rail station
#5 Group: Midnight Lotus
Assam
#6 Group: Order of the Iron Rose
#10 Group: D'argento Della Rosa
Lemon
#8 Caledon Library Mayfair Branch (enter on Jasmine)
#9 Group: Phoenicia Holding Group (enter on Bergamot)
Darjeeling
Black
Ceylon
Ad blocker interference detected!
Wikia is a free-to-use site that makes money from advertising. We have a modified experience for viewers using ad blockers

Wikia is not accessible if you've made further modifications. Remove the custom ad blocker rule(s) and the page will load as expected.