Coupons or vouchers are notecards that you fill out inworld and give to a retailer, who then gives you a specific item. Often these are for accounts less than 30 or 60 days. They are a specific kind of freebie, but have the advantage that the avatar can choose from what would otherwise be full priced content.
Redeeming a Coupon
Filling out a coupon involves editing the notecard, then saving the note card. Then renaming the note card. To rename click on inventory, find the notecard, generally by clicking on the recent items tab in inventory and expanding the Notecards folder. Right click on the notecard, and select rename from the pop up menu. Add your name in your name for the coupon to be returned correctly. Leave the inventory window open
To return a coupon in the client click Search and then People. Type in the name of the person, not the store, and you will see their name appear in the list on the left, click on that, and on the right the Profile will appear.
Then from the inventory window, drag the filled out notecard over to the place on the profile which says "Drop Inventory item here." If the person is online, then you will eventually get a notification as to whether they have accepted your item. If they are offline you will get a notification saying that the item will be delivered later.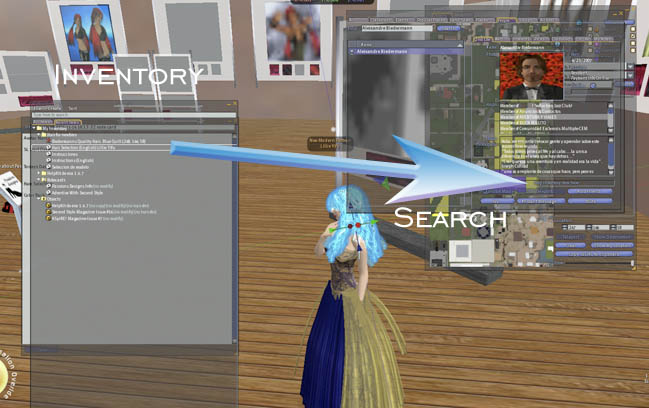 Coupons in World
Hair Coupons
Biederman's Touch the sign to the left of the door. Also a large collection of help notecards, though mostly out of date, in Spanish. Restriction: First four weeks. Send Coupon to Aleixandre Biederman.
Diversity Touch sign to the right of the door. Requires that you join the Diversity VIP group. Send Coupon to Aleri Darkes.
GroovyGirl Touch sign on the inside and left of the door. Send coupon to Groovebunny Shabazz.
Gurly 6 Coupon sign is up the steps and to the left of the door inside for women, though men qualify as well. Return coupon to Six Kennedy.
Ad blocker interference detected!
Wikia is a free-to-use site that makes money from advertising. We have a modified experience for viewers using ad blockers

Wikia is not accessible if you've made further modifications. Remove the custom ad blocker rule(s) and the page will load as expected.