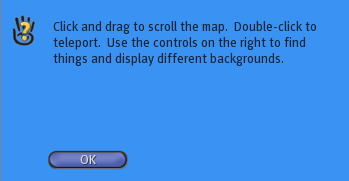 Besides being another name for chat/communication, a dialog (short for dialog box or dialog window and another name for "popup" or "toaster" window) is a user interface (UI) element used throughout Second Life that has options for the user to choose from.
A dialog can appear on a resident's screen in the:
center, with a dark grey background:

Automatically replace existing attachments
Leave Busy Mode when paying a person or object
Setting Pay Object on object without money() script event
When loading transactions web page
When moving no-copy inventory from objects
When moving no-copy inventory from scripted objects
When paying a person or object in busy mode
After being logged out of SL due to idling/inactivity.
Links
Ad blocker interference detected!
Wikia is a free-to-use site that makes money from advertising. We have a modified experience for viewers using ad blockers

Wikia is not accessible if you've made further modifications. Remove the custom ad blocker rule(s) and the page will load as expected.