Note:  This page has been proposed for protection to prevent vandalism.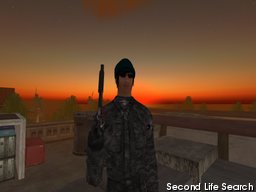 Eazy101 Wilber is the former Supreme Commander, recruiter, and engineering division Commander of 2142. He is currently a Sergeant (E-3) with the Ordo Imperialis (formerly the Novus Ordo Imperialis, the Venuma Coalition, and the Alliance Navy II). He is usually found hanging out in sims such as titan, Hazzard County, or Badnarik. It is also to be noted that he is a long time Second Life combatant, a formable foe, and a very distinctive bad speller. He is partnered with Tanto Falta who in his opinion is the best girl in both Second Life and Real Life. His weapon of choice is currently the Mossberg 500 created by Titan Industries Incorporated. His friends within the Ordo Imperialis find him to be a valuable asset.
Ad blocker interference detected!
Wikia is a free-to-use site that makes money from advertising. We have a modified experience for viewers using ad blockers

Wikia is not accessible if you've made further modifications. Remove the custom ad blocker rule(s) and the page will load as expected.