Free Community Sandbox
Est. 2011, May

CEO, CTO, Security: Sysdef Wonder
Website: http://freecommunitysandbox.wordpress.com/
FC Sandbox started by old experienced Fermi Sandbox Staff after Fermi Sandbox got sold to Little Blue Sandbox and the Fermi-typical environment changed.
Free Community Sandbox
is a new Second Life sandbox in with old values. The newest community in all of Second Life -Free Community Sandbox is a growing 2/3-sim sandbox of real, honest and creative people looking to bring the best possible atmosphere to all of Second Life. Created by experienced Administrators who really know what the Second Life Community needs to develop and grow. We created Free Community Sandbox to give both the novice and the expert a warm and friendly place to learn, script, build and flourish. Come meet the people of FREE COMMUNITY SANDBOX. Our administrators are here to h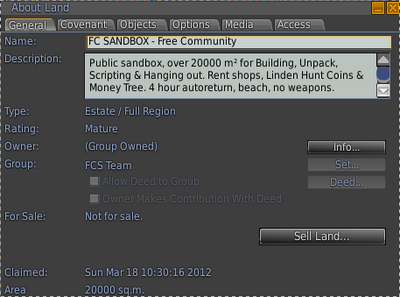 elp, not hinder your development. We have a relaxing Beach area, Money Tree, Money Chest and Linden Hunt Coins. Our No Weapons and No Driving policy will keep everyone safe and happy. We have a reasonable number of low lag shops designed for the builder to showcase their creations without excessive lag. This is your community, Free Community Sandbox. Make us part of your community. If you miss the no driving, no weapons, builder friendly sandbox you once enjoyed, pleas visit Free Community Sandbox.
Ad blocker interference detected!
Wikia is a free-to-use site that makes money from advertising. We have a modified experience for viewers using ad blockers

Wikia is not accessible if you've made further modifications. Remove the custom ad blocker rule(s) and the page will load as expected.