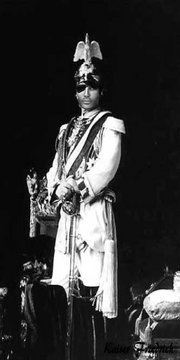 Friedrich Sauber(Also known as; Tristan Blazer, Tristan Mineff etc)
is the Founder and Emperor of the Deutsches Kaiserreich(formerly Republic of Germany, Deutsche Elite Kraefte, Federal Republic of Germany). He is also the Founder and Chief Executive Officer of
Kaiser Industries
, and the Founder of
The Anvil Coalition
. Joining Secondlife in 2004, he spent most of his time in Mafia, Gang and other roleplays, Eventually finding his way into the Military Community. Where he committed and continues to commit most of his time in Secondlife to leading the Deutsches Kaiserreich and it's predecessor groups from 2006 until the present day. One of the oldest members of the community still left and an experienced, well-known leader, Friedrich Sauber can be found in-game frequently.
Ad blocker interference detected!
Wikia is a free-to-use site that makes money from advertising. We have a modified experience for viewers using ad blockers

Wikia is not accessible if you've made further modifications. Remove the custom ad blocker rule(s) and the page will load as expected.