There are a number of companies in Second Life that host grid-wide gaming networks. These serve a dual purpose of both entertaining the players and bringing traffic to the lands of those that host these game. They usually allow players to earn linden dollars or win prizes.
Networks
Goldtokens.net Gaming Network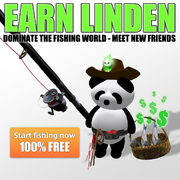 The Goldtokens grid-wide gaming network is by far the largest in Second Life and one of the oldest. The gaming network is run by SecondAds advertising company.
It hosts a number of entertaining games for players ranging from fishing, to hunting to farming and more. Players are able to earn linden dollars by playing these games.
- Goldtokens Gaming Network

7seas
7seas is a grid-wide fishing game that allows players to win fish and other prizes in fishing contests in Second Life.
- 7seas Fishing Gaming Network

Dragons & Princesses
Dragons is an entertaining grid-wide gaming network hosted by Earn2Life
- Dragons & Princesses Network

Other
Check the advertising networks listing at the official Second Life wiki page.
Ad blocker interference detected!
Wikia is a free-to-use site that makes money from advertising. We have a modified experience for viewers using ad blockers

Wikia is not accessible if you've made further modifications. Remove the custom ad blocker rule(s) and the page will load as expected.