History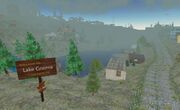 Gnoma
Gnoma is one of the sims in Heterocera that was made and brought online on July 19, 2005. This sim is part of the northern continent's mainland.
Gnoma's man attraction is Lake Gnoma, currently owned by Zuleika Deere. Gnoma is home to Fallen Petals, **Hybrid** Street, Lock Creations, and TZ Enterprises.
Gnoma first was bought by Julieana Cannoli and Kalif Cannoli to make a mall called the Lost Shopping of Atlantis, which had games, casinos, 80 stores, chariot racing and entertainment. The Lost Shopping of Atlantis was later made into a smaller mall that was later sold.
The larger part of Gnoma, Lake Gnoma Headwaters, is being kept by Zuleika Deere as a wilderness park, open for everybody to relax and explore.
Lake Gnoma Headwaters
Gnoma Headwaters used to be inhabited by a native indian tribe. Even today there are still relics from the past to be seen, like the teepee camp, the pueblo and the gypsy camp.
The land is mountainous, and has a lake, rivers, waterfalls, woods and even secret caves. An old goldmine by the creek is deserted, but rumours are there is still gold to be found. The lands richness is said to be proven by one of the trees growing there. Various people report money growing from that tree, and many new residents still visit this money tree regularly.
The owner of the land, Zuleika Deere, keeps the land in it's original natural state.
The area is visited by people who want to relax and enjoy themselves. Horseriding, canoeing, swimming and meeting friends by the campfires are a few of the things people come here for.
The lake itself is one of the wonders of nature, only existing in Second Life. While the surface is that of a sweet water lake, the underwater is tropical salt water. Very special to both swimmers and scuba divers.
The Lake Gnoma Headwaters property has been extended into the neighbouring sim Falcaria, where both the goldmine and Zuleika's not yet opened shop Deerest Desires are located. Also some distant plots in different mainland sims are part of Lake Gnoma Headwaters.
Ad blocker interference detected!
Wikia is a free-to-use site that makes money from advertising. We have a modified experience for viewers using ad blockers

Wikia is not accessible if you've made further modifications. Remove the custom ad blocker rule(s) and the page will load as expected.