Tallest building in Green (excluding floating builds). Grey stone clocktower. Office (or control center) sits behind glass clockface. Office accessible through at least two quasi-secret ways. Clock is missing hands and may be an abandoned build.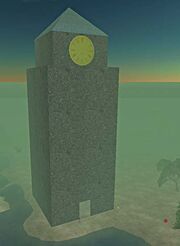 Built in 2004
Ad blocker interference detected!
Wikia is a free-to-use site that makes money from advertising. We have a modified experience for viewers using ad blockers

Wikia is not accessible if you've made further modifications. Remove the custom ad blocker rule(s) and the page will load as expected.