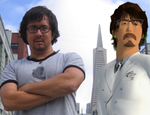 Hamlet Au, formerly Hamlet Linden, is most well-known for his New World Notes blog. Originally designated Linden Lab's embedded reporter within Second Life, he joined Federated Media in early March of 2006. Having left Linden Lab as an official employee in 2006, Hamlet now goes by Hamlet Au and continues to report on community activites in SL.
He has completed a book on Second Life, which is now in pre-order.
External Link
Ad blocker interference detected!
Wikia is a free-to-use site that makes money from advertising. We have a modified experience for viewers using ad blockers

Wikia is not accessible if you've made further modifications. Remove the custom ad blocker rule(s) and the page will load as expected.