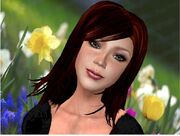 Honoria Paine
is a SL
resident
; first rezzed in-world on April 13, 2007. She served in SL as Public Relations/Marketing manager for
Global Online Hockey Association
, forward and assistant captain for the Cobras hockey team of GOHA. She is currently co-owner of the RL/SL business, Virtual PLural LLC.
---
History
Honoria Paine first came into Second Life through a close friend and collegue, Ohana Rau. As of April 2007, Honoria has been active in SL on a regular basis. From April, 2007 to March 2008, Honoria was a special collections librarian for the Independent State of Caledon. When her avatar creator's work began to entwine with SL, she resigned her post in Caledon. She has received the Order of the Lapin d'Argent for her service to Caledon. As an avid fan of hockey, she pursued a career as a player in the Global Online Hockey Association in June, 2007 where she played forward for the Whales and Moose in Season 3. She served as a player for the Cobras and Public Relations/Marketing Manager for the league through Season 6. In Season 7, after a brief retirement, she came back to play for the Whales who went on to win the Linden Cup. She has been on the GOHA All-Star team for three seasons in a row. Her awards include: Season 3: Best in Jersey, Best Attendance Record, Most Supportive Fan, and Plentiful Penalties; Season 4: Outstanding Service to the League, 1st Team All-Stars, and The James Trophy for Outstanding Sportsmanship. Season 5: 1st Team All-Stars; Season 6: 1st-Team All-Stars; Season 7: The Linden Cup (Whales). Her latest hockey endeavor has been playing defense (when time allowed her) for the Mustangs, one of the newest teams in the league.
She is currently lives on the Glastonbury sim. She spends her time pursuing fashion and shopping along with her creative pursuits.
---
Other Pursuits CEO and content creator for Virtual PLural LLC
---
Origin of Her Name
Honoria (pronounced ah-NOR-ee-uh) has been a favorite first name of her avatar's creator but the name serves a higher claim to fame as the name of Major Charles Emerson Winchester III's sister from the television series, M*A*S*H.
Paine was chosen as an homage to Thomas Paine, pamphleteer, patriot, dreamer (1737–1809). He is best known as the author of the pamphlet, "Common Sense" which played a key role in rallying support during the American Revolution.
Ad blocker interference detected!
Wikia is a free-to-use site that makes money from advertising. We have a modified experience for viewers using ad blockers

Wikia is not accessible if you've made further modifications. Remove the custom ad blocker rule(s) and the page will load as expected.