Isere was originally a corner sim far from any telehubs but this was changed when Hanson was added with its own telehub near Isere.
Images
Pictures of the whole sim of Isere, looking east, taken on 9/16/2004 just after the neighboring sims were added. Until then, Isere was on a corner of the grid, and far from a telehub. When the new sims were added, a telehub was placed in the middle of Hanson, to the west of Isere, thus making Isere a much more accessible location.
In the picture is the Slate group's ski lodge, Garth and Pitcua FairChang's cabin, Lisse Livingston's home, barn/store and two apartment rental units, Siro Mfume's Ice Mall, Vini Vindaloo's Ice Hotel, Meatwad Extraordinaire's house, Omni Prototype's Club "O", and a few other smaller builds.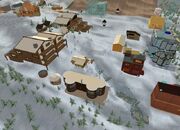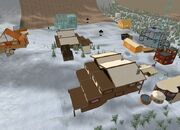 Ad blocker interference detected!
Wikia is a free-to-use site that makes money from advertising. We have a modified experience for viewers using ad blockers

Wikia is not accessible if you've made further modifications. Remove the custom ad blocker rule(s) and the page will load as expected.