Natoma, (189,191)
The original Ivory Tower of Primitives was located in Noyo, but a branch was opened in 2004 in Natoma. Built by Lumiere Noir, the Ivory Tower of Primitives is a tribute to what can be built in Second Life. Incredible and obsessive attention to detail make this a build to see.
A Self-Guided, Self-Paced, Comprehensive Building Tutorial.
Teleport to Ivory Tower of Primitives Natoma
Images
As of June 17, 2006, the Noyo Branch of the Ivory Tower of Primitives ceased to exist. The new Natoma Branch building is the current, existing Ivory Tower Library of Primitives.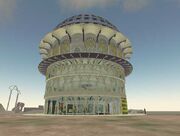 Ad blocker interference detected!
Wikia is a free-to-use site that makes money from advertising. We have a modified experience for viewers using ad blockers

Wikia is not accessible if you've made further modifications. Remove the custom ad blocker rule(s) and the page will load as expected.