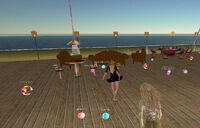 Summary
This is for the Jazz Club, for the Sim see (Jades Jazz Island)
Jade's Jazz Island is the full sim version of a long running SL jazz and dance club. It features a relaxed atmosphere with a dance floor that looks out over breaking waves towards the ocean. It is owned by a group including SexyJade Echegaray, Jadie Janick, Samantha Winthorpe and Barry Cheeky.
SURL
External Links
This Second Life Wikia Article is a stub! You can help everyone by expanding it!
Ad blocker interference detected!
Wikia is a free-to-use site that makes money from advertising. We have a modified experience for viewers using ad blockers

Wikia is not accessible if you've made further modifications. Remove the custom ad blocker rule(s) and the page will load as expected.