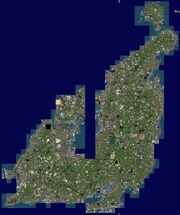 Overview
Jeogeot (also known as the Korean Continent and Bodem) is a Linden Lab-Managed Continent. It is only one of three continents isolated from other continents, the others being Zindra and the Premium Continent.
| | |
| --- | --- |
| # of Sims | |
| Create Date | Unknown |
| Max Elevation | |
| Min Elevation | |
Geography
Traversed by Routes 9 and 10 and the Wellington Road. For a map and more information go to Second Life Road Network Directory .
History
Some of the earlier Geographers refer to this land mass as Bodem
Regions
Sims
Haean
Hyojong
Jelloab
Jeolla
Jinseok
Jirasan
Juho
Jumeoni
Juwangsan
Rason
Seomna
Seoraksan
Sokri
Songnisan
Tammora
Tong
Yongma
Ad blocker interference detected!
Wikia is a free-to-use site that makes money from advertising. We have a modified experience for viewers using ad blockers

Wikia is not accessible if you've made further modifications. Remove the custom ad blocker rule(s) and the page will load as expected.