==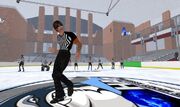 Jericho Hill (Sim)==
Jericho Hill was purchased in 2005 by Katia Ixtab and Jack Belvedere. The private estate was just off the coast of Sansara, near the Sandboxes and Nova Albion. It was formerly home to a Mafia group and later, a Gorean tribe and was known as Oblivion.
Jericho Hill has built and sold Egyptian and other themed buildings and textures.
In 2006, Jericho Hill became the home of Global Online Hockey Association, created by Jack Belvedere. The sim also was moved to connect with another private estate, TreeSong, so that ice hockey spectators could sit on TreeSong and observe the games from there, helping the game run with less lag. TreeSong is owned by GOHA member Anhayla Lycia.
Ad blocker interference detected!
Wikia is a free-to-use site that makes money from advertising. We have a modified experience for viewers using ad blockers

Wikia is not accessible if you've made further modifications. Remove the custom ad blocker rule(s) and the page will load as expected.