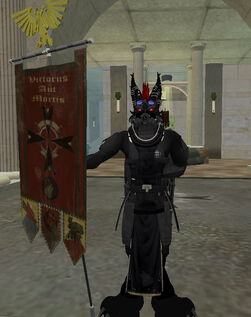 Johann Wilberg is currently a Commander of the Reservist Corp in the Militant Collective. Recruited by Sly Axon, he joined the Alliance Navy as a pilot in the Air Division. Although shortly after joining came the splitting by Shadow Keegan that created the Alliance Navy II. He served under Shadow, then Aryte Vesperia as he came to power, continuing through the Venuma Coalition, and the Novus Ordo Imperialis where he was promoted to Optio.
When the Ordo Imperialis was born, he stayed as an Optio of Astra until his elevation to the Praetorian Guard.
Ad blocker interference detected!
Wikia is a free-to-use site that makes money from advertising. We have a modified experience for viewers using ad blockers

Wikia is not accessible if you've made further modifications. Remove the custom ad blocker rule(s) and the page will load as expected.