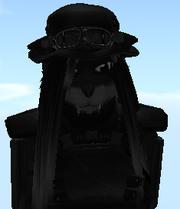 Kiether Koskinen started Second Life in early 2008 after seeing an ad for the game in a random google search for jackets. At first, he spent most of his time in sandboxes griefing helpless residents with his notorious "Follow Ball", a giant wooden ball that would constantly follow and push anyone within it's vicinity. Since then he has become a well-known resident of the combat community for his service in various popular militaries. Most notably, Valkyrie Alliance, Obsidian Shield, ASR, Eleventh Sentry, and Haven, as well as many others.
Currently, his account remains dormant and doesn't see much use anymore.
Ad blocker interference detected!
Wikia is a free-to-use site that makes money from advertising. We have a modified experience for viewers using ad blockers

Wikia is not accessible if you've made further modifications. Remove the custom ad blocker rule(s) and the page will load as expected.