Military Service
Kristian Kit was the general (3ic) of Interior and administrative affairs of The Ordo Imperialis, overseeing the Officium Curia, Agentus in Rebus (formerly: Frumentarii) and the other smaller administrative divisions of the Ordo, up untill it's closure in january 2013. In addition to these positions Kristian served as an Evocatus (captain/squad leader) within the Praetorian Guard.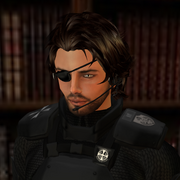 Prior to joining the Ordo Imperialis Kristian Kit was a member of the Merczateers where he held the now non-existant position of Infantry Komdiv ( overseer of the infantry divisions), Light operative (intelligence service) and Dragoon (special forces). Kristian was the one who took the initiave to contact Aryte Vesperia in order to establish colloborative efforts to fight the Alliance Navy which led to the former Novus Ordo Imperialis members joining the Merczateers.
Misc
Kristian has held a lot of additional positions that are related to his military service.
These include but are not limited to;
- New Jessie Director
- Boomtown administrator (ancestor of The Combat Continent)
- Iron symphony delegate
- Various war-tribunal positions
- News reporter for various war journals
Currently
Kristian Kit has left second life.
Ad blocker interference detected!
Wikia is a free-to-use site that makes money from advertising. We have a modified experience for viewers using ad blockers

Wikia is not accessible if you've made further modifications. Remove the custom ad blocker rule(s) and the page will load as expected.