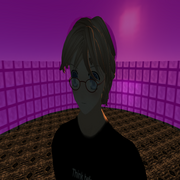 Larre Leborski is an active resident of Second Life. He owns land in the sims of Glinda, Taernils Bluff, and Belphegor. His groups are New World Enlightenment, Masters of the Singularity, and Larretronix Rentals.
Larre is very active in the Autism community within Second Life, maintaining close ties with Virtual Ability, Dreams, and Ninja of the Obvious, where he owns a home in Farstone. He also owns a Temple, a Club, and a Sandbox in Glinda, NWE lands in Glinda which borders Ninja of the Obvious lands in Farstone currently rented out to Autie Hotties Social Club and recently, the Second Life Autism Network. Larre previously owned land in Gundeulbawe under Larretronix Rentals, and a small 1024 sqm Sandbox in Comet, which he has recently sold to expand in Glinda, and to purchase lands in Taernils Bluff, for an Autism comunity and sanctuary, and Bruja. Larre abandoned his lands in Bruja to undertake much of the lands in Belphegor, which was for sale by Varian Parx (Ravensloft), and abandoned by Annie Obscure (Pathways). These 2 parcels were merged with 3 small abandoned parcels annexed, and are now called New World Enlightenment Southern Fried.
On Saturday, December 17th, 2011, at approximately 9:00 PM SLT, a major griefing incident hit Farstone. Larre felt a distincive shift in lag before seeing the particle and object explosion in the Farstone Sandbox, being at the Kyoto Gardens on the north end of the sim at the time. Larre, through his expertise in his lands, took it upon himself to cut off the advancing griefer objects in the area. He successfully locked down his lands (making them no rez and no object entry), and owner returned all of the griefer objects on the lands in Glinda, Taernils Bluff, and Belphegor, within 20 minutes of the initial explosion.
Ad blocker interference detected!
Wikia is a free-to-use site that makes money from advertising. We have a modified experience for viewers using ad blockers

Wikia is not accessible if you've made further modifications. Remove the custom ad blocker rule(s) and the page will load as expected.