The Lisbon Opera House was a project comissioned to a Portuguese non-profit association, ARCI, which uses Second Life as a platform for educational uses (e-Learning) and for cultural projects.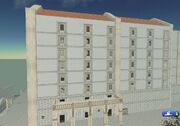 This was a proposal for the evocation of a space with noble characteristics that existed in Lisbon for only six months — The Royal Opera House — which stood on its site only from April 1755 to November of the same year, being utterly destroyed on the Lisbon Earthquake of 1755. Second Life enabled to "rebuild" something that doesn't exist any more.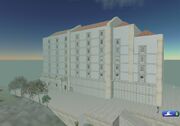 So, in a way, this is the fantastic proposal of a real building become mythical — an assembly of real age elements that could have co-existed in an unique space in 18th-century Lisbon.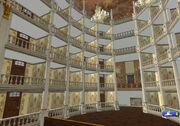 PDF with presentation and images (11 MB)
The Lisbon Opera House was originally set up in Io, but currently this building is visible at ARCI's land in Lanercost.
Ad blocker interference detected!
Wikia is a free-to-use site that makes money from advertising. We have a modified experience for viewers using ad blockers

Wikia is not accessible if you've made further modifications. Remove the custom ad blocker rule(s) and the page will load as expected.