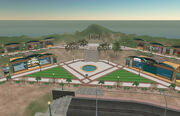 Luna Oaks is a shopping mall located in
Luna
. It is one of the few (if not the only) shopping malls owned, built, and run by Linden Lab. Spaces are rented out by process of lottery for smaller spots and auction by the larger spots. Renters were first given the spaces for 1 month, this was then lengthened to 3 months, and finally 4 months.
Luna Oaks was first announced on 12-18-2003 and appeared with a very nice structure built by Xenon Linden and a water fountain scripted by Ben Linden.

Related links
Ad blocker interference detected!
Wikia is a free-to-use site that makes money from advertising. We have a modified experience for viewers using ad blockers

Wikia is not accessible if you've made further modifications. Remove the custom ad blocker rule(s) and the page will load as expected.