History

Machine Empire was a machine stylized army that took over the left over lands after New Rome's last departure from the teen grid. The military group took in many of the past New Rome members which were left out after New Rome was disbanded for the last time in the Teen Grid in order to merge to the Main Grid.
As a result of this unique event the leaders of Horatius R.M. got together once again with Nero Revestel who created the logo to established a new Military as the continuation of RM. This military was named Machine Empire [ME].
Style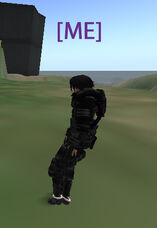 This military had a very mechanic style, hence its name. The base was a factory and the armors resembled machinery with styles that ranged from light to heavy armor.
The army also wanted to bring back the use of Mechs which were originally used mostly in Rome's beginnings. Machine Empire due to its location was raided by various military including Cattalyst whose base was a few steps away, and Angelus Mortalis. However Angelus Mortalis was the first other military group to raid Machine Empire and the army that raided the most. 
Popularity
Machine Empire in its first two weeks reach a number of members so high that it can be compared to when Rome returned for the first time to the Teen Grid after their longest period gone.However unfortunately due to the merge to the main grid the military didn't survive very long. Due to the short period the military lasted it is usually regarded as a continuation of RM rather than an individual military. However there are many people who think of [ME] as the best or one of the best depature armies before the end of the Teen Grid as a separate grid.
Disbandment
Strategically the military was sold to another military (Vardiction) that was being restablished that was going to merge to the Main Grid. Machine Empire was sold with armor, base, land, group, guns and other materials previously belonging to the army. The plan was that with the money obtained Horatius R.M. would be rebuilt on the Main Grid. Unfortunately due to the high prices in the main grid and most armies owning a sim rather than small parcels R.M. who would carry on Machine Empires legacy was never restablished and therefore was disbanded.
More Information
Please  see http://secondlife.wikia.com/wiki/Horatius_R.M._Military for more information.
Ad blocker interference detected!
Wikia is a free-to-use site that makes money from advertising. We have a modified experience for viewers using ad blockers

Wikia is not accessible if you've made further modifications. Remove the custom ad blocker rule(s) and the page will load as expected.