Second Life features 2 map windows: a larger, more detailed World Map window and a smaller, simpler Mini-Map window.
World Map Window
Tabs
Legend
Colors
Icons
(with "Show" checkboxes)
Search/List
These place a beacon on a specific location.
Buttons/Slider
Mini-Map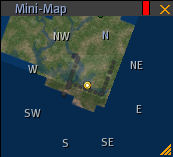 The Mini-Map window is just a smaller, yet fully resizable, version of the world map window without most of the icons and no only a context menu with 4 options: 3 zoom levels and a "stop tracking" option which removes the beacon.
Ad blocker interference detected!
Wikia is a free-to-use site that makes money from advertising. We have a modified experience for viewers using ad blockers

Wikia is not accessible if you've made further modifications. Remove the custom ad blocker rule(s) and the page will load as expected.