Natoma, 209,218
The Natoma Boat Pond sat in the very northeast corner of the Natoma sim. It was a replica of remote controlled boat attractions that can be found at many RL amusement parks. The boat pond was non-operational since at least December, 2002.
Creator was listed as Philip Linden.
As of Nov. 2004, the Boat Pond has been removed.
Images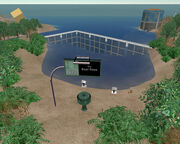 Ad blocker interference detected!
Wikia is a free-to-use site that makes money from advertising. We have a modified experience for viewers using ad blockers

Wikia is not accessible if you've made further modifications. Remove the custom ad blocker rule(s) and the page will load as expected.