Paradise is a shopping and club sim. The club is called Club Cosmo.
The sim is owned by Hellsing King, however the shopping mall is managed by Beverly Hills Amy Stirling.
It connects to Paradise Family which appears to be private residential.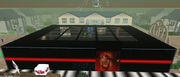 Ad blocker interference detected!
Wikia is a free-to-use site that makes money from advertising. We have a modified experience for viewers using ad blockers

Wikia is not accessible if you've made further modifications. Remove the custom ad blocker rule(s) and the page will load as expected.