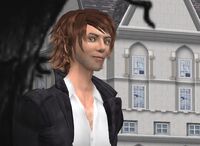 Peter Stindberg (rezdate October 9, 2006) is the founder of SL's leading translation and text creation agency Babel Translations (established June 2007), as well as the co-founder of GREENE concept furniture (established April 2008 with Ivanova Shostakovich). From June 2008 to January 2009 he was responsible for sales & marketing for ~flirt~ Fine Prim Jewellery, the company of his former Second Life partner Skinkie Winkler.
In 2008 Stindberg got nominated for SL Entrepreneur of the Year by the SL Entrepreneur Magazine, as Social Butterfly of the Year by Vain Inc. and GREENE concept got nominated as Best new furniture company by Vain Inc. as well.
Biography
Skills and Interests
Real Life
The human behind Peter Stindberg is a sales and marketing executive from Europe.
See also
External links
Ad blocker interference detected!
Wikia is a free-to-use site that makes money from advertising. We have a modified experience for viewers using ad blockers

Wikia is not accessible if you've made further modifications. Remove the custom ad blocker rule(s) and the page will load as expected.