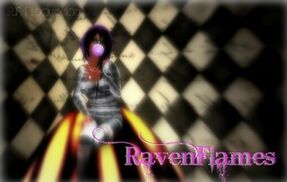 A simplistic young girl who tries to see the best in life. Raven's Second Life and Real Live corrispond in many ways but Second Life, to her, is mostly for fun and fulfilling dreams.
Just Starting
When Raven first joined Second Life, she spent most of her time at a sand box playing gestures and dancing around for fun. She was actutally unaware that Second Life was much bigger than just that sand box. When she found out about different jobs and activities on Second Life, she made a concious decision that she would be a part of that.. It wasn't long after that when she started working as a Hostess in many different clubs across Second Life.
Her working experience included the following:
Hostess at White Wolf, Hostess at Rock Steady, Hostess at Asylum, Dancer/Hostess at Demonic, Dancer at Pure, Dancer at Asylum, Dancer at Breaker's Biker Club, Dancer at Mean Girls, Dancer/Hostess at Illusions, Dancer Manager at Zephyrus, Club Manager at The Girls Zone, Owner of Vivid Mirage.
Family
Raven never had a family on Second Life until she met Dragoranos Kungfu . As a couple, they had one son, Zeto and a daughter named Carona.
Raven was adopted in April 2012 by Lillyona Resident. She was adopted into a vast family with several siblings, aunts and uncles.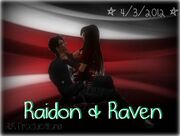 In January 2012, when Raven was hired at Club Illusions as a Hostess and Dancer, she met Raidon Bergan. They became a couple in April 2012 and are to be wed mid May. They're also expecting their first child together. Raven and Rai also have a relationship in real life!

Raven and Rai are happy together, sharing just about everything. Second Life brought them together~
Career
Raven and Raidon currently own a club called Vivid Mirage. It's located on an Adult simulator called Karma. The club features daily events from 6 - 8 PM SLT. The manager of the club is Raven's brother, Kenshin Scarmon.
R.F. Productions.. Raven also edits photos! She's a very skilled photographer and owns her own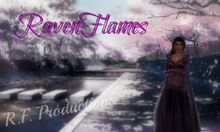 studion on the Karma simulator where her club is located. She does edits for everyone and has the lowest prices!
Raven runs Vivid Mirage and manages another club called The Zone. At the same time, she has time to edit photos and even Role Play on two different sims. She does many things to keep herself busy!
Ad blocker interference detected!
Wikia is a free-to-use site that makes money from advertising. We have a modified experience for viewers using ad blockers

Wikia is not accessible if you've made further modifications. Remove the custom ad blocker rule(s) and the page will load as expected.