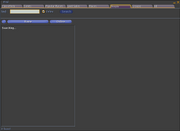 Part of Second Life's UI, the Search Window (or "Finder" or "Find Window") allows a resident to search for different things, separated by tabs:
Classifieds - Search for advertisements only that are paid for by residents, listed based on amount paid, and can also be sorted by name of the ad.
Events - Search for events only as scheduled by residents, listed by time, and can also be sorted by name. Future events can be seen by clicking the arrows at the bottom.
Land Sales - Search land for sale only.
Places - Search for places only.
People - Searching for people only and shows off-/online status; clicking a name brings up the resident's profile on the right. Can specify to search for only online residents.
Groups - Search for groups only.
All - Search all tabs with results displayed by the appropriate icon.
With Version 1.11 the "Find Window" was renamed to "Search Window" through-out the UI. This process began in Version 1.10.6 with the renaming of "Find" to "Search" in the toolbar.
Ad blocker interference detected!
Wikia is a free-to-use site that makes money from advertising. We have a modified experience for viewers using ad blockers

Wikia is not accessible if you've made further modifications. Remove the custom ad blocker rule(s) and the page will load as expected.