Sheridan is a furry-themed estate sim founded by Zi Ree, Fairlight Lake and Tengu Yamabushi. Its main purpose is to serve as home and retreat for its owners, but also to provide friends with a place to party and dance, meet and attend live music events.
Staff and membership
History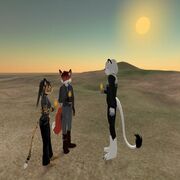 December 1, 2006: Sheridan appeared on the grid. A small impromptu gathering of the owners came to pass and the decision for a party later that day was made.
December 11, 2006: Basic terraforming started, parcels divided into the home places for the founders.
December 12, 2006: Mt. Sheridan has been erected, Tengu's place built up by Fairlight.
December 13, 2006: Terraforming on the Wetlands started, Fairlight's tree hut assumes shape.
December 17, 2006: Walkways on the Wetlands built, tree hut done

Events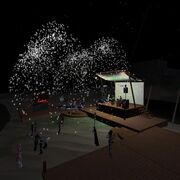 2006-12-01, 12:30-21:30 SLT: Simwarming party, hosted by Zi Ree

Sheridan Today
As of now, Sheridan is in its early development stage. The beach area has a preliminary stage and dance area set up, as well as a large pool, built by Sasha Wheeler.
Ad blocker interference detected!
Wikia is a free-to-use site that makes money from advertising. We have a modified experience for viewers using ad blockers

Wikia is not accessible if you've made further modifications. Remove the custom ad blocker rule(s) and the page will load as expected.