Rezzdate: December 8, 2006
Originally a Sanchonite, Captain Sin Trenton is now a citizen of the Independent State of Caledon. He's most known for his maritime and nautical activities in several communities, including the Imperial Navy of Caledon and Caledon Sail & Steam Society, which he founded together with Hypatia Callisto.
Sin Trenton retains contact with his old pirate mates and may well replace the Navy's flag on his Brigantine HGS Zaneta with his own version of Jolly Roger (see below), if encountered at sea.
When not travelling the Second Seas, he can most often be found in his small shop, 'Trenton House of Charts & Maps' in Caledon On Sea SLurl Map.
He keeps the ship's log available, with various notes on maritime matters in SL, at The Log of HGS Zaneta.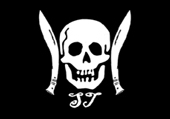 Ad blocker interference detected!
Wikia is a free-to-use site that makes money from advertising. We have a modified experience for viewers using ad blockers

Wikia is not accessible if you've made further modifications. Remove the custom ad blocker rule(s) and the page will load as expected.