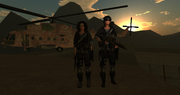 SoD (Soldiers of Darkness) has been founded by Stalker Wolverine and Splash. The army is currently led by Babe Penucca.
The army has a post-communist russian theme and uses russian modeled weapons, aircraft and tanks predominantly.
Since the army consists for 85% out of russian soldiers, the sim closes for regular combat at  midinight Moscow time, 13:00 SLT. From 13:00-21:00 SLT combat is possible after approval by the highest ranking soldier present in the combat simulator
Spoken languages in the army are Russian and English, translators are required and available.