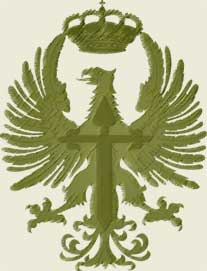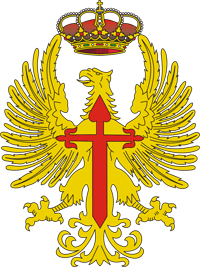 The Spanish SL Army (called SSLA) is a Second Life(SL) military group founded first with the name of "Comando Kindoor" over the 16 of June of 2007.
Base link: Fletcher Christian sim.
Alliances
Nowadays the SSLA form part of the EUROFOR, an alliance within conventionals armys in SL. From apart SSLA have others alliances like:
-Deutsche Bundeswehr
-SL British Army
-Special Assault Team
-Forces Canadiennes/Canadian Forces
-French Second Life Army (FSA)
-Stargate SGC
Ranks (In Spanish)
-General
-Coronel
-Teniente Coronel
-Comandante
-Capitán
-Teniente
-Alférez
-Brigada
-Sargento 1º
-Sargento

Oficios MPTM (Militar Profesional de Tropa y Marineria):
-Cabo 1º
-Cabo
-Soldado
-Recluta
Divisions
-Engineers (Comandante alvaro)
-Infantry (General juanhemp)
-Instruction and Recruitment (Capitan Pachi)
-Makinaria (coronel vegetix)
-Legion (Capitan Zoilo)
Engineers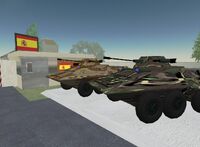 Order by the Comandante alvaro210193 Martinek, is the division whic do the specials equipments like tanks, helicopters and a lot of things.
Murdoc Hammerer is the second order in that division, he build guns and avatars equipments, helped by the Comander; also Gaffar Belar is a gun and vehicle builder.
Infantry
Order by the General juanhemp McMahon and with a slogan: "The biggest honor is dead in the combat" ("El mayor honor es morir en el combate"). That division include the instruction and rectruitment, one of the most important division in the beginning of a soldier in the SSLA.
Instruction and recruitment
See infantry.
Bases
Somerset
A flat in the sim "Somerset" was the place of meeting of the "Comando Kindoor".
Startup
That was a low prim parcel where we suffered griefers attacks.
San Placide
In that base we only stay over 2 weeks because an avatar put things of push and hugeprims in our parcel and we can't return it because he has power over the region.
Global City
The owner of that region get on well with us and he join our army for do specials operations. One day, this base was small for us, and then we buy the low prim region Fletcher Christian.
Fletcher Christian
There the base looks like a french base of the Second World war, we hold a lot of months fithing alone.
KINDOOR
Our new base. Was build be Comandante Alvaro and whit a little help of Gaffar Belar giving Ideas and makign some things.
Ad blocker interference detected!
Wikia is a free-to-use site that makes money from advertising. We have a modified experience for viewers using ad blockers

Wikia is not accessible if you've made further modifications. Remove the custom ad blocker rule(s) and the page will load as expected.