Spittoonie was an Estate Sim owned by Trimda Hedges. It is subtitled "the island of fun" and contains tringo, a theme park (Blue Mountain), Ten Pin Bowling, Ice Hockey and other games. It closed on 18th June 2005 as the owner could no longer afford to keep it going. [1]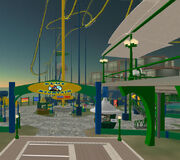 Ad blocker interference detected!
Wikia is a free-to-use site that makes money from advertising. We have a modified experience for viewers using ad blockers

Wikia is not accessible if you've made further modifications. Remove the custom ad blocker rule(s) and the page will load as expected.