History
Stillman is home to the Linden-owned Free Bazaar, a place where anyone can place items that they want to share with the entire community. Only 'free' objects are allowed at the bazaar.
Historical Landmarks
Evie Fairchild's Home

In the southwest corner of Stillman which, on the second floor, contained a cool mini-map of Elysian Island (Cayman).
Oneironaut Escher's Escherland builds and Cannabis Carnival

Removed in late '03 or early '04 and replaced by Dan Rhodes serene forest.
An observation tower on the south face of Stillman Mountain.
Was on the eastern shoreline of Stillman. Structure was moved to the new home in spring of 2007.
Current Landmarks
Still growing and ever changing assortment of free items.
Perched on the top of Stillman mountain, it's been a landmark in Stillman since late September '03.
Probably the newest addition to Stillman, the castle sits in the northwest corner of Stillman. Still under construction.
Images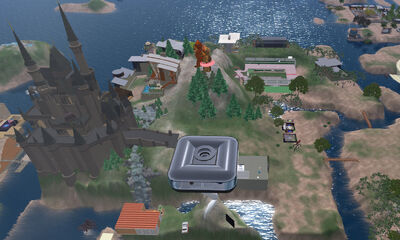 Ad blocker interference detected!
Wikia is a free-to-use site that makes money from advertising. We have a modified experience for viewers using ad blockers

Wikia is not accessible if you've made further modifications. Remove the custom ad blocker rule(s) and the page will load as expected.