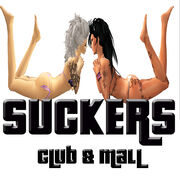 Suckers is a Second Life dance club with an adjoining outside mall, co-owned by Kiki Paine and Neveah Fhang. It opened officially in May 2009, despite difficulties the club experienced beforehand, such as business partnerships collapsing and land being sold from under them resulting in the building having to be completely rebuilt.
The club caters to a high, classy clientèle and provides both male and female dancers and escorts. The design of the club is extremely unique to others in Second Life, in that the entire club is actually split in two: a pink side for the female dancers and a blue side for the male dancers.
Staff
There are currently around 20 members of staff, with new hires coming in and being trained to the highest quality every day. This is both Paine and Fhang's first time experiencing club ownership, although they have an extensive history of managerial positions in SL night clubs, stemming from early beginnings as dancers. The club is currently employing for all positions: dancers, escorts, hosts and DJs.
Future
With new events daily and a huge publicity campaign on the horizon, Suckers has quickly become known as the new Second Life hot spot, to meet new people, make friends and have new experiences in-world. Their vision for the near future is to provide round-the-clock entertainment for patrons 24 hours a day.
External Links
Ad blocker interference detected!
Wikia is a free-to-use site that makes money from advertising. We have a modified experience for viewers using ad blockers

Wikia is not accessible if you've made further modifications. Remove the custom ad blocker rule(s) and the page will load as expected.