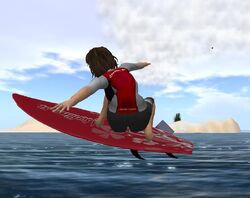 Surfing is now one of the fastest growing virtual sports in Second Life with its own associations, competitions, clubs and business community.
The beginnings of Second Life surfing came about when scripters noticed that all the bodies of water in Second Life were flat. Some created wave animations as a sim design feature, but others wanted waves that were more dynamic and that were 'surfable'. Heather Goodliffe is reputed to have created the first surfable wave in early 2006, with Sebastian Saramago creating the first functional Second Life surfboard.
Today there are thousands of surfboards in circulation and hundreds of regular surfers. Surfer Flynn Sheridan and a group of dedicated surfers founded the Second Life Surfing Association (SLSA) in Spring 2007 using the structure and foundations of the US International Surfing Association (ISA) and the National Scholastic Surfing Association (NSSA) as guides.
Keala Mimistrobell of Namiko Surf Company organised the first Second Life surfing competition in early 2007. The SLSA organised its first surfing competiton in June 2007. Since then the Second Life surfing community has grown by leaps and bounds with new waves, new surfing sims and new surfboards being developed continually.
Competition Rankings
The Second Life Surfing Association (SLSA) organises two competition seasons each year of five surfing events each, with surfers competing in for points that contribute to the seasons rankings.
Winner 2007 Fall-Winter season: Tightline Kidd
Winner 2008 Spring-Summer season: Pova Rustamova

Useful Links
Ad blocker interference detected!
Wikia is a free-to-use site that makes money from advertising. We have a modified experience for viewers using ad blockers

Wikia is not accessible if you've made further modifications. Remove the custom ad blocker rule(s) and the page will load as expected.