Ad blocker interference detected!
Wikia is a free-to-use site that makes money from advertising. We have a modified experience for viewers using ad blockers

Wikia is not accessible if you've made further modifications. Remove the custom ad blocker rule(s) and the page will load as expected.
TSL3B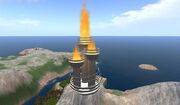 Date: 21st June (Wednesday) to 25th June 2006 (Sunday), Peak at 23 June (Friday) Hosted all around TSL
Hosts: Lindens and Residents
TSL3B Preps - Meeting on the 21st of June 2006 at the Instructiors Area at 3pm SLT, to discuss event ideas, schedules and prizes
Party weekend - Friday, Saturday and Sunday
How to prepare: Send a notecard inworld to Mia "Goddess of Events" Linden or Blue "lesser god of stuff to do" Linden with your idea for an event. Must include: Event Title List each event separately, Event Description, Event Time, How Long will your event last (MINIMUM 1 HOUR).
Ideas: Best Avatar Contest, Dance Contest, Shoot Bub, Trivia, Show and Tell, or Dunk-A-Linden etc
We'll advertise, we'll announce, we'll even provide the prize money, YOU provide the insane fun! FUN, CREATIVITY & EDUCATION, as this will reflect what Second Life is all about.
Events and locations that happened? trying to find out