TSL3B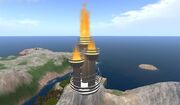 Date: 21st June (Wednesday) to 25th June 2006 (Sunday), Peak at 23 June (Friday) Hosted all around TSL
Hosts: Lindens and Residents
TSL3B Preps - Meeting on the 21st of June 2006 at the Instructiors Area at 3pm SLT, to discuss event ideas, schedules and prizes
Party weekend - Friday, Saturday and Sunday
How to prepare: Send a notecard inworld to Mia "Goddess of Events" Linden or Blue "lesser god of stuff to do" Linden with your idea for an event. Must include: Event Title List each event separately, Event Description, Event Time, How Long will your event last (MINIMUM 1 HOUR).
Ideas: Best Avatar Contest, Dance Contest, Shoot Bub, Trivia, Show and Tell, or Dunk-A-Linden etc
We'll advertise, we'll announce, we'll even provide the prize money, YOU provide the insane fun! FUN, CREATIVITY & EDUCATION, as this will reflect what Second Life is all about.
Events and locations that happened? trying to find out
Ad blocker interference detected!
Wikia is a free-to-use site that makes money from advertising. We have a modified experience for viewers using ad blockers

Wikia is not accessible if you've made further modifications. Remove the custom ad blocker rule(s) and the page will load as expected.