'TeaZer Isle is an estate sim owned by the club of the same name. It opened in ? and was rebuilt in a Parisian theme. In April 2005, owner Trixie Therian had to sell the island due to a car accident. It was bought by a group including First Page and Same Page. They removed the build and rebuilt.
In the picture below, the Eiffel Tower is from the Parisian build and the purple retail units are from the new build.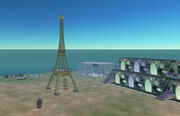 Ad blocker interference detected!
Wikia is a free-to-use site that makes money from advertising. We have a modified experience for viewers using ad blockers

Wikia is not accessible if you've made further modifications. Remove the custom ad blocker rule(s) and the page will load as expected.