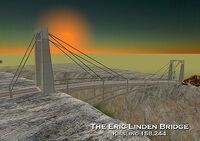 The Eric Linden Bridge in Kissling connects the center mountain with the northern ridge.
Although every prim of the 3-part, 105-prim bridge lists Eric Linden as the creator, Eric had nothing to do with its creation. The bridge was built in May 2004, partly as an example of how creator-information in SL's objects can be deceiving (and a warning for potential abuse). Even though Eric did not build this bridge, he made several great bridges throughout SL's world.
Links
Ad blocker interference detected!
Wikia is a free-to-use site that makes money from advertising. We have a modified experience for viewers using ad blockers

Wikia is not accessible if you've made further modifications. Remove the custom ad blocker rule(s) and the page will load as expected.