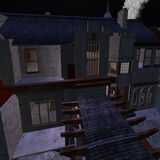 "The Fair Lane" in Second Life
The Fair Lane was commissioned by the University of Michigan—Dearborn and designed and built by Alix Stoanes , Founder of Alix Stoanes Design ("ASD"). It is a largely faithful replica of the Henry Ford Estate home built by Henry Ford in Dearborn, Michigan. The commission was to commemorate the fiftieth anniversary of the campus.
The Fair Lane was completed by Mr Alix Stoanes in just over a week real time. It features fully functional doors, windows, lights and security, and also, utilises many actual textures lifted from the real life Fair Lane mansion.
The Fair Lane is situated at SLURL: http://maps.secondlife.com/secondlife/Cass/178/218/61
Ad blocker interference detected!
Wikia is a free-to-use site that makes money from advertising. We have a modified experience for viewers using ad blockers

Wikia is not accessible if you've made further modifications. Remove the custom ad blocker rule(s) and the page will load as expected.