O V E R V I E W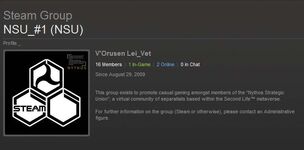 "NSU_#1" is the
Nythos Strategic Union
's
Steam Community
group, designed to "promote casual gaming amongst NSU Personnel"; the group was originally set-up in the wake of
Taste_The_Difference
(Hence the use of initials, and not the faction's official name); serving only members of the Administration at the time, the aim of the group was changed from a casual gaming clan to a representation of an inworld organization.
 The insignia displayed upon the page was originally designed for the Mujigae territorial group (Taavi's Estate), and was later modified and recycled. As with the bulk of Nythos graphics, the colour scheme is that of white-on black, the design adorned with interlocking hexagons and the Nythos Triskelion
H I S T O R Y
"NSU_#1" was created during the early Mujigae period by Seitosus Difference; the group was briefly used by Freng, Quinote and Faith, before undergoing the transition that saw it bearing the official Nythos seal and representing the inworld organization.
C U R R E N T    S T A T U S
Whilst listed alongside Ventrilo in Nythos' Communications page, the Steam Community group is seldom as active as Ventrilo; members using it do so at individual stages, tending to game in pairs. Unlike Ventrilo, usage of the Steam group is not mandatory.
Ad blocker interference detected!
Wikia is a free-to-use site that makes money from advertising. We have a modified experience for viewers using ad blockers

Wikia is not accessible if you've made further modifications. Remove the custom ad blocker rule(s) and the page will load as expected.