Comments

0
Alexia Mell torna in Puglia allo Showgirls
La stupenda artista italo-rumena pronta ad estasiare i suoi numerosi ammiratori con la sua consueta classe e le sue forme mozzafiato. Un'ospitata da "Oscar".
Due date da segnare come "speciali" sul calendario, perché diversamente non può essere. Alexia Mell torna in Puglia e lo fa nello storico ed inossidabile Showgirls di Fasano, venerdì 17 e sabato 18 luglio. La polivalente artista rumena torna ad infiammare i suoi estimatori, tanti, del tacco dello stivale con la sue curve mozzafiato che le hanno concesso la giusta cittadinanza nella hall of fame del rutilante mondo notturno italiano. Alexia è bella, carismatica e capace di fagocitare ogni sguardo dell'universo maschile che puntualmente è lì ad ammirarla. E ad assicurarsi la professionalità della Mell non poteva che essere lo Showgirls del deus ex machina Max. Due notti ad alta gradazione erotica desiderose di essere consegnate nel mito notturno pugliese.
CHI E' ALEXIA MELL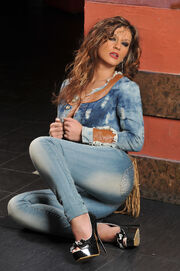 Fin da piccola inizia a sviluppare la sua passione verso tutto ciò che è arte: musica, ballo, bellezza. L'allora giovane promessa Alexia inizia presto la sua scalata al successo, tra le mura amiche della sua Romania: l'aiutano la sua bellezza e la sua voglia di emergere. La sua seppur giovane avvenenza inizia a sbocciare, partecipando a diversi concorsi di bellezza, tra i consensi sinceri del suo pubblico. La Mell è un'artista a tutto tondo, perché sa cantare e posare, come dimostrano la rivisitazione del brano di Serege Gaingsbourg e Jane Birkin, "Je t'aime, moi non plus". Nello stesso anno partecipa come cantante al Festival Show condotto da Elenoire Casalegno, non dimostrando alcun timore reverenziale nel confronto con gente come Paola e Chiara, Dj Francesco e Franco Califano. Anche la televisione vuole Alexia. Ma la tv che conta, s'intende.  Diverse le sue ospitate sulle principali reti: dalla Rai alla rete ammiraglia, passando per Sky e Canale Italia. Nel suo curriculum prestigioso, la Mell annovera anche la partecipazione come interprete del serial televisivo "Rome", prodotto da BBC, HBO e Rai Fiction; "Le cose che restano", con la produzione di Bibi Film Tv e regia di Gianluca Maria Tavarelli su Rai Uno. Protagonista nel thriller "Only 4u", sotto la regia di Vincenzo Esposito. Alexia però si cimenta pure nello scrivere, curando una sua personale rubrica, "in controluce", sul periodico nazionale Radiocorriere Tv (giornale della Rai), riscuotendo successo. Ma è l'amore per la musica che Alexia non molla mai, anzi raddoppia: nel 2007 esce con il singolo "The other side". È anche imprenditrice di se stessa, come dimostra il suo ruolo attivo nella Fantasy Studio Agency in compagnia di Davide Gambin.
LA CHICCA
Ma è col film di Sorrentino "La grande bellezza" che la Mell raggiunge l'apice della sua carriera, visto che la pellicola italiana sbanca Hollywood portando a casa la preziosa statuetta che mancava all'appello da anni. Condivide il set con gente del calibro di Tony Servillo, Carlo Verdone, Sabrina Ferilli e tanti altri. Nel film compare dolce e sinuosa come al suo solito, lasciando ben poco all'immaginazione grazie al suo fisico perfetto in ogni dove. Quel fisico che adesso aspetta di essere ammirato in Puglia, precisamente allo Showgirls di Fasano. Basta attendere il 17 e il 18 luglio.
Ad blocker interference detected!
Wikia is a free-to-use site that makes money from advertising. We have a modified experience for viewers using ad blockers

Wikia is not accessible if you've made further modifications. Remove the custom ad blocker rule(s) and the page will load as expected.