Val's Family Entertainment Center is a multi-facility recreation complex on the sims of Adam ondi Ahman and Cumorah. It is owned by Valentine Janus.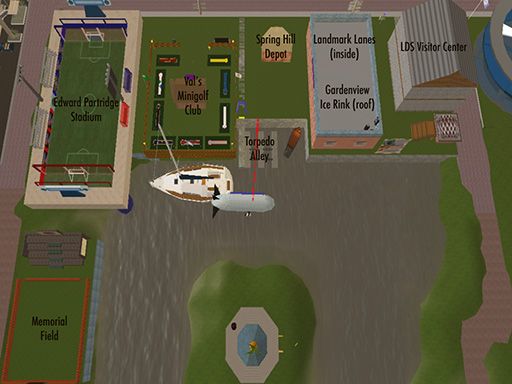 The facilities at Val's include:
Val's Minigolf Club dates from 30 March 2007 and opened for business less than one month later. This nine-hole course was adapted for SL from World Minigolf Federation championship layouts.
Torpedo Alley is a combat submarine ride described as "bumper cars underwater with attitude". It is also an exploration ride, moving beyond the original sub pen to encompass the Helam Channel and reach Bountiful Bay via the channel inlet and seacoast.
Landmark Lanes replaces an earlier South Coast Bowl building for tenpin bowling.
Edward Partridge Stadium is the home pitch of the football club FC Manti.
Gardenview Ice Rink still sits on the roof of the bowling alley.
Memorial Field is dedicated to armed martial arts combat using sword, axe, hammer, and claymore.
LDS Visitor Center at Adam ondi Ahman is an educational exhibit about the Church of Jesus Christ of Latter-day Saints (Mormons). Church members built the eight sims as a private initiative.
Spring Hill Depot features a narrated tour by vehicle of the many exhibits at Adam ondi Ahman. It is also the central hub for public transit lines (beta) on the estate.
The first four facilities (minigolf, combat submarines, bowling, football/soccer) charge nominal fees; the other four are free.
Ad blocker interference detected!
Wikia is a free-to-use site that makes money from advertising. We have a modified experience for viewers using ad blockers

Wikia is not accessible if you've made further modifications. Remove the custom ad blocker rule(s) and the page will load as expected.